10am-11am US et : 3pm-4pm UK Monday to Friday
MONDAY APRIL 10
Pastor Paul Mullet – www.Divine-Truth.org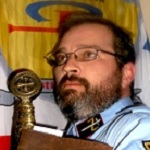 On today's show I was joined by Pastor Paul Mullet of, "Divine Truth Ministries."
We discussed a variety of issues including: the work of Pastor Ray Redfeairn (who Pastor Mullet actually met); how to deal with trolls online; Pastor Mullet's work on behalf of U.S. prisoners; and why and how the listeners can become activists whilst retaining their freedom from prosecution.
Click Here For Pastor Paul Mullet's Website
Be sure to check it out. A very good show!
Please follow and like us:
The following two tabs change content below.
A devout Dual Seedline Christian Identists, Pastor Paul R. Mullet has made it his mission to bring forth a Christian Identity, and White Nationalism unification. Thru his website divine-truth.org, he and his partners in Yahshua the Messiah, have found common ground in combating jewdeo-Christianity, and have formed a new battle axe for Yahshua the Messiah (Jesus Christ). Pastor Paul R. Mullet is considered by some within the Dual Seedline Christian Identity Theology as a very powerful speaker and writer, a fast moving up and comer. His tireless devotion to his family, farm, faith and kinsmen are clearly heard within his sermons and writings. He lives with his wife and two children, on a modest hobby farm in southern Ohio, some would say the border of what will be the New America for the white race.
Latest posts by Pastor Paul R. Mullet (see all)